Cairns Car Hire
Are you travelling from out-of-state or overseas? Are you thinking of leaving the car at home and taking advantage of great Cairns Car Hire options from Brisbane to Cairns or anywhere in cairns only? A car hire holiday in Queensland will be one of the most enjoyable experiences of your life. The drive from Brisbane to Cairns (or vice versa) is 1700km and will take you around 22 hours to complete not accurate just an rough estimate. So choosing a company with comfortable hire options is a must. You will experience lush landscapes and a wealth of great attractions, both natural and man-made, along the way. Drive past rainforests, mountains, deserts, wetlands and beautiful beaches. There are some truly wonderful places to stop along the way, and it will make this easy.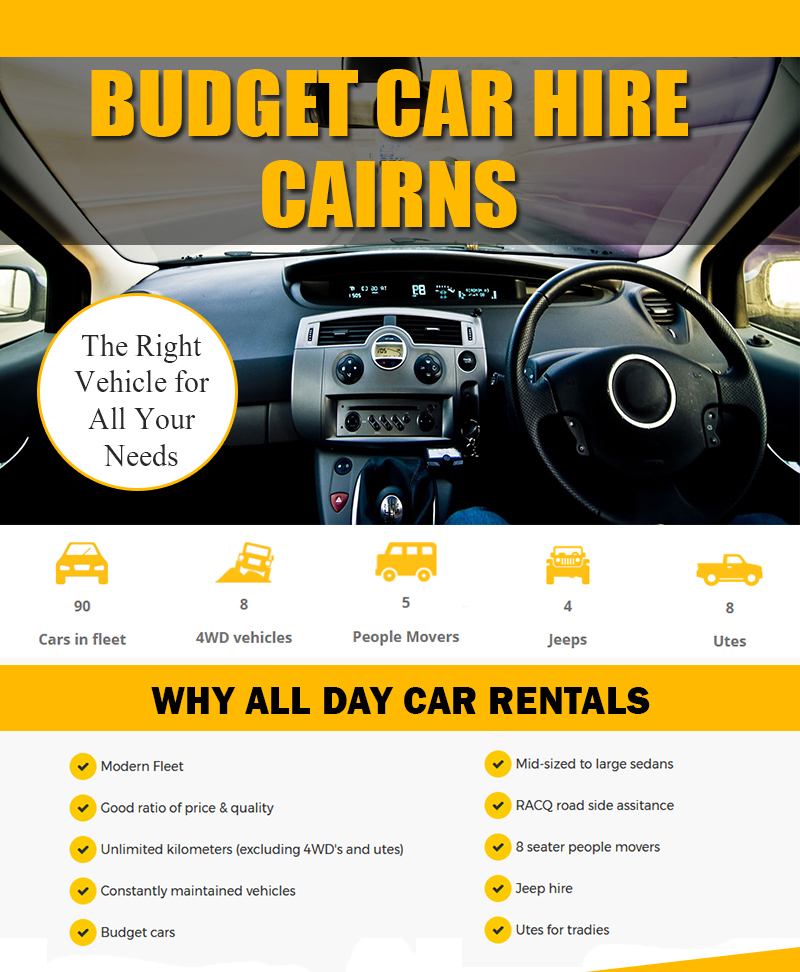 Queensland is a huge state and a lot of travelling in your car hire can be done here. When searching for this for travel in Cairns it is a good idea to select unlimited kilometres, as this won't restrict how many kilometres you can do. You must also remember to return your hired vehicle in either Cairns or near by with a full tank of fuel and in the same condition in which you picked it up in.
How to Book a cheap car hires ?
You can easily find and book a cheap yet top quality car hire service online. Search for the most popular company with best comments and feedback. Compare the tariffs with other services and choose the most affordable and best  Cairns Car Hire service.
You can book your car online within few minutes on our website. You just need to fill an online form, giving in all the details like date of arrival, time, location, car model you want to hire, etc. and your car will be waiting for you at the airport even before you arrive in the city.
It is best to book your car in advance, which is before you start your journey. However, if due to some reasons you could not do that in advance, there are generally no extra cost charged for last minute bookings. Our cheap car hire in cairns can equip with freedom to explore every corner of this beautiful city with comfort of exotic cars benefits for rent.
How much is the fees?
Fees depend on how many miles are travelled and if the trip is one-way or round trip. Special rates may apply offering an upgrade special, bonus day, or additional miles at no extra cost. One-way specials are extended on travel from one city to another for few dollars fee, such as from Cairns to Brisbane or near by place.
A visit to these two cities would give a traveller a taste of Australian natural resources from forests to beaches. Cairns, a northern town of Queensland, is known for the Daintree Rainforest and the Great Barrier Reef while Brisbane is between the Gold Coast and the Sunshine Coast. Both cities have an abundance of hostelry and restaurants for the novice and seasoned traveller.

One to two day Cairns Car Hire rentals in each locale is more economical than driving the entire continent. Unless visits are extended to more days or even for a month, it is nearly impossible to see all the sights and experience the various landscapes and cityscapes of this vast continent.
Browse here to know more about Cairns Car Rental.
Related Tags:
Rent Car Cairns,Car Hire Cairns,Car Rental Cairns,Cheap Car Hire Cairns,Hire Car Cairns
Back To Home